As the economy faces ongoing challenges like inflation, layoffs, and a potential recession, consumer spending has taken a hit in Q1 of 2023. At Drop, with the help of our market research solutions, we dove deep into our survey and transactional data to understand the impact of these negative market trends on spending behaviour. The results were clear: economic sentiment is low and spending has decreased across the board.
However, there is a glimmer of hope. Despite the tough times, we've identified one sector that looks to be back on the rise.

Majority of consumers feel as though the economy is in a poor state, and are not optimistic about improvements for the rest of the year.
Our market research survey findings reveal a consistent trend of consumer pessimism towards the economy. Nearly half of respondents (49%) thought the economy was in poor shape in January 2023. Now, in April 2023, 51% still hold a negative view of the economy. But the real shocker comes when looking ahead. A staggering 73% now predict that the economy will remain in a poor or very poor state for the remainder of 2023. This significant 22% shift is largely due to respondents who were previously on the fence now joining the ranks of the naysayers.
Consumer confidence is clearly lacking, and with no signs of improvement, the pessimism is only going to grow.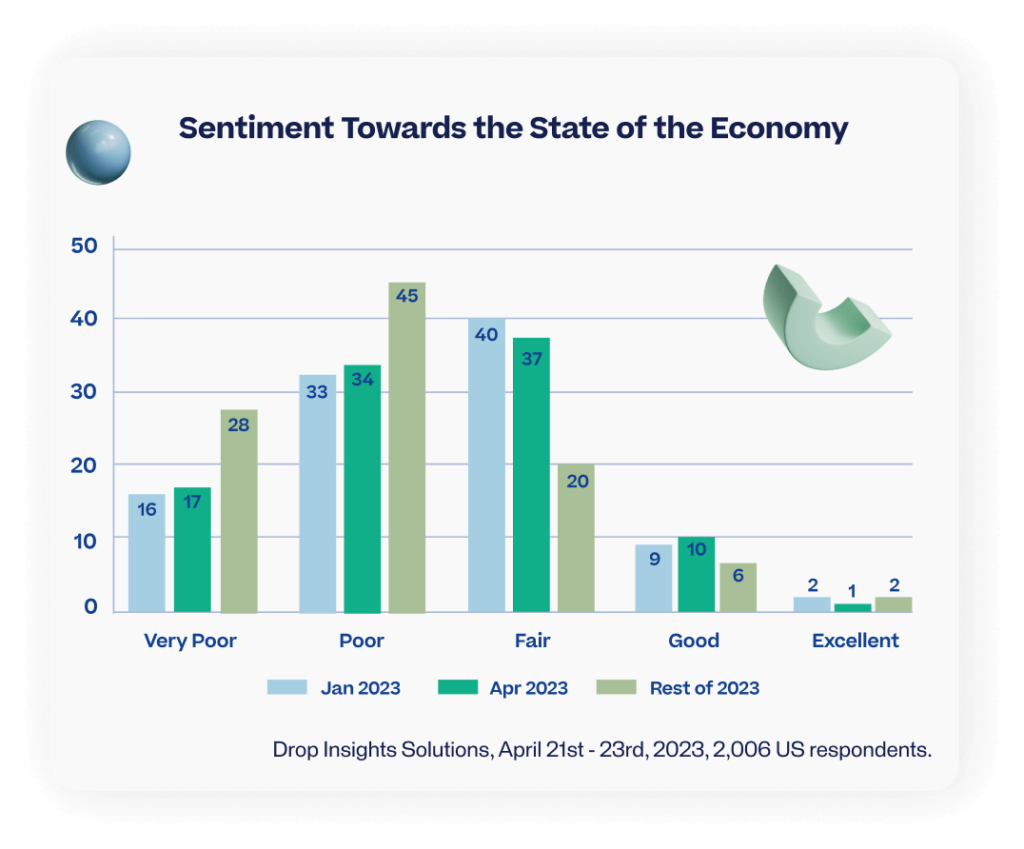 Although consumers have reported an increase in their spending habits, the actual total spend has decreased in comparison to the previous year.
As the cost of living continues to climb, it's no surprise that 42% of survey respondents reported spending more than they did at the beginning of the year. However, Drop's transactional records tell a different story, with a 5% YoY and 9% QoQ decrease in total spend. This suggests that consumers are making fewer purchases but spending more on each one due to inflation. To combat these rising costs, consumers are getting creative, with 52% opting to join loyalty or reward programs, 49% eating at home, and 45% using coupons.
It's clear that consumers are prioritizing essential purchases and seeking out discounts wherever possible, which is something that organizations should keep in mind in the coming months.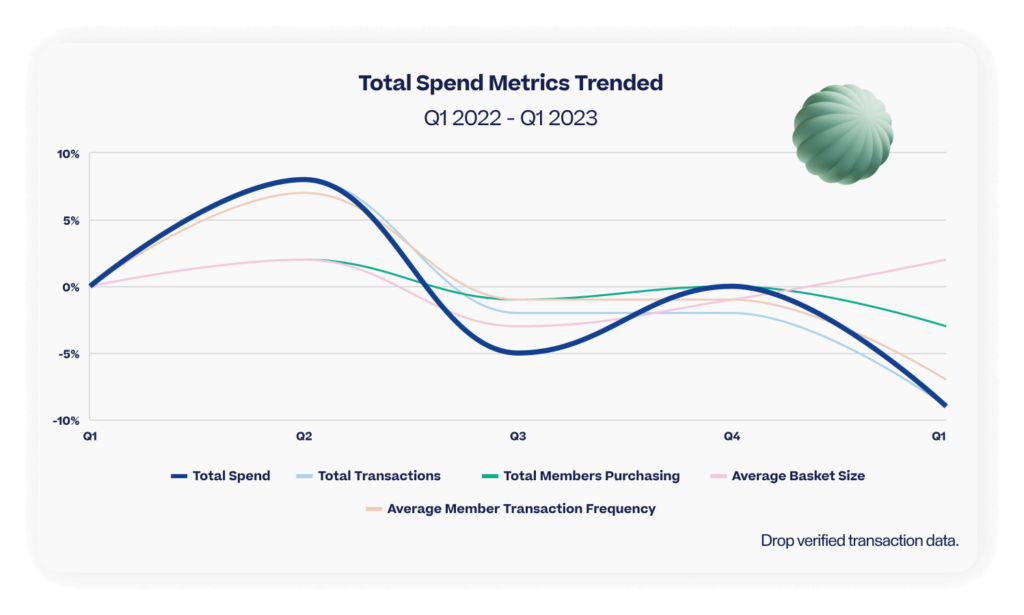 After increased spending in particular sectors for various holidays in Q4 2022, a return back to normality occurred in Q1 2023.
The holiday shopping season saw total spend increase by 5% in Q4 2022, but it seems that the party is over as total spend has since dropped 9% in Q1 2023. In Q4 2022, Accessories & Apparel, Personal Care & Beauty Products, and Computer & Electronics were all hot sectors for holiday shopping. However, in Q1 2023, despite basket sizes remaining consistent or even increasing slightly, transaction volume has taken a huge hit. The Accessories & Apparel category saw the biggest drop in spend at a staggering -26%, with transaction volume down by 29% despite a 2% increase in basket size.
The post holidays spending decrease is not irregular, but at a rate as severe as this could potentially be an area of concern.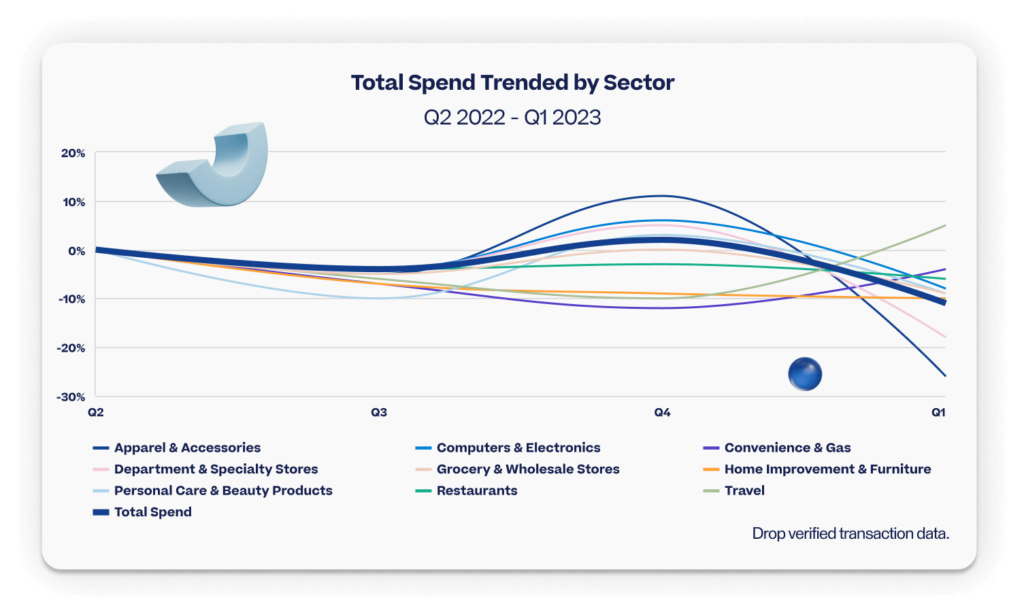 Download the full report below to find out which sector is bouncing back in Q1 2023!
Drop Data Sourcing
Transactional data was captured by leveraging a panel of 238K verified US Drop members who had transacted from Q1 2022 – Q1 2023. Survey data was captured by Drop Insights Solutions, surveying 2,006 US Drop members from April 21st – 23rd 2023.
Download the full 2023 Q1 Spending Report