On November 15th, Walmart raised its full-year sales and profit forecast. The following day, Target cut their holiday-quarter forecast blaming surging inflation and "dramatic changes" in consumer spending.
As analysts investigated, they pinpointed two factors contributing to the outlook:
Walmart dedicates +50% of their shelf-space to groceries and this continues to pay off. It's no surprise that groceries drive 56% of Walmart's revenue compared to only 20% for Target.
Over 75% of Walmart's market share gains have come from high income households who have typically been a strong segment for Target. Are they feeling the pressure from rising prices?
We analyzed transaction data of Drop customers who shop at Walmart and Target over the last 12 months and surveyed 1,200+ individuals in that subset to understand their shopping behavior, today and into the future.
What does the data show?
Target Shoppers are shifting their spend.
Target has leaked on average 22.3% of Loyal Shopper dollars to Walmart over the past 12 months.
But Walmart shouldn't be their only concern; Over the past 12 months we've seen Target loyalists shift to warehouse clubs like Sam's Club and Costco, along with discount stores like Dollar General and Dollar Tree.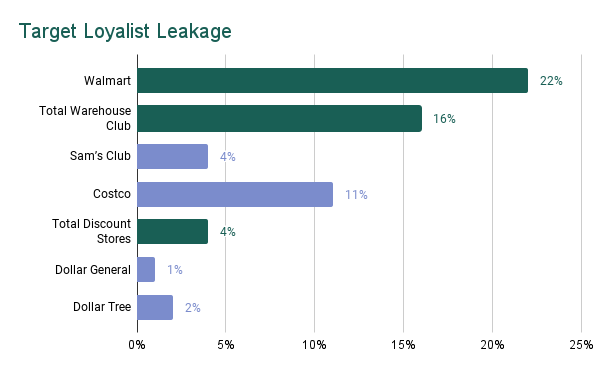 Get the full report.
Download the full Walmart Vs. Target Report below to drill down into the data and find out more on why Walmart has been winning market share from Target loyalists and if it will continue.
Ready for more? To access up-to-date custom sector reports with a daily cadence, and to view quantitative and qualitative trends that fuel your work, contact sales@joindrop.com.
Download the full Walmart vs. Target Trend Report