This Vancouver-based brand has been on the rise in Canada in the everyday luxury space. From Kendal Jenner and the iconic Super Puff (pictured below) to the TikTok viral sensation that was the Melina pants, its success is a result of product variety that spans workwear, casual wear, and more.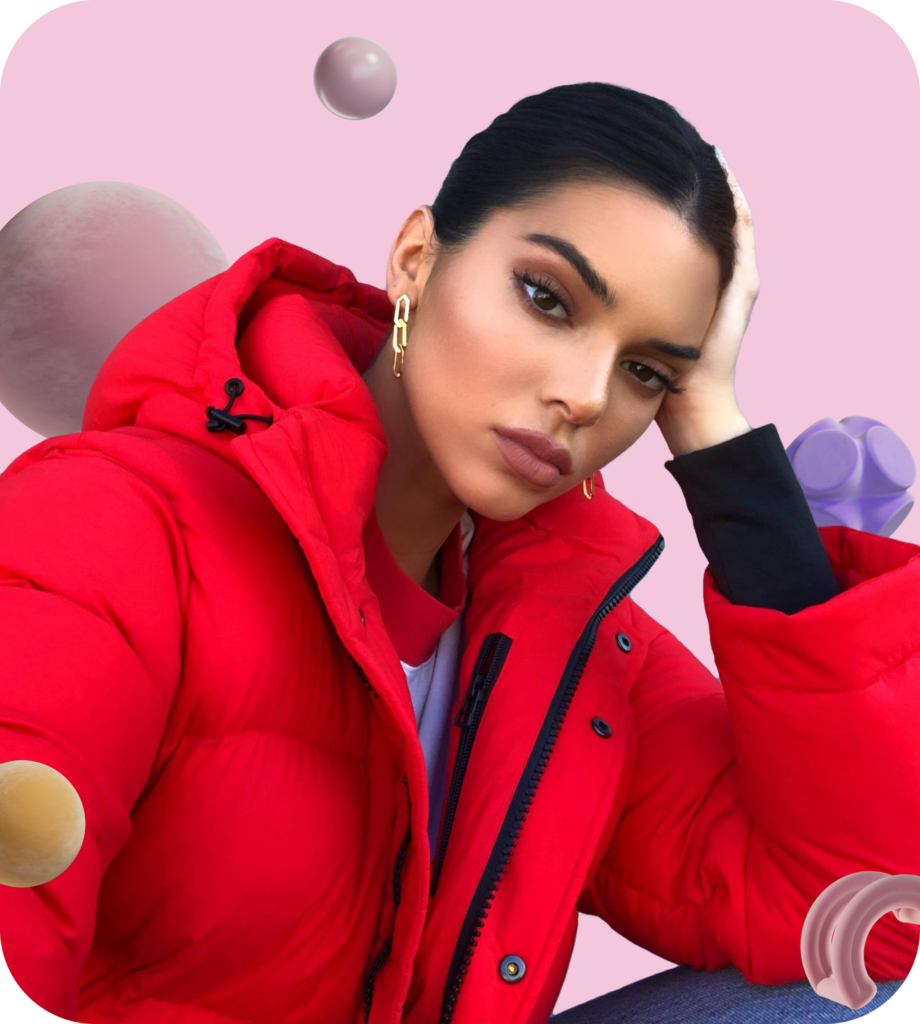 More than just its products, the brand is also praised for its shopping experience, including offering communal mirrors to encourage more touchpoints with style advisors and additional services, including their A-OK café in-store, games for customers' partners to stay entertained and consistency between in-store and ecommerce packaging.
Sales at Aritzia in the U.S. grew by a staggering 58%.
In the three-month period ending November 27, Aritzia announced that it generated $625 million in net revenue. This surpassed analysts' predictions by nearly $100 million (Financial Post, 2023). And while their Canadian sales increased 22% in 2022, Aritzia's sales in the U.S. grew by 58% over the same period and for the first time, more than half of their net sales came from the U.S. (Financial Post, 2023).
With that growth in mind, we looked at the transaction data and turned to our panel to bring you the top 3 reasons why we're bullish on Aritzia right now.
Reason #1:
64.8% of Drop respondents have never heard of Aritzia, representing an opportunity for tremendous growth.
We surveyed 2,690 American Drop members and found 64.8% had not heard of Aritzia, representing continued growth opportunities to infiltrate the U.S.
Looking further into the age cohorts, we identified 61.7% of Gen Z respondents were aware of the brand, in contrast to other age groups, where more than half of each respective age cohort were not familiar with the name. Aritzia has been recognized as the "Gen Z brand", which has supported the brand's accelerated growth.
Aritzia is aware of this opportunity and their concerted effort to expand in the U.S. will only accelerate growth.
Reason #2:
Aritzia has a "cult-like" following among its consumers.
88.5% of transaction-verified Aritzia customers reported that they plan to shop with them in the near future.
Aritzia has relied on premium in-store experiences in premium shopping districts to build brand awareness. Through Drop survey responses of transaction-verified respondents, 54.2% first heard of Aritzia by seeing the store in malls or major shopping districts. However, this is not their only form of brand awareness. They also use brand advocates on social media who share must-have articles on clothing and shopping. On TikTok alone, there are over one billion videos under the hashtag Aritzia (Vogue Business, 2022).
In late 2020 Aritzia began to see accelerated growth in the US. It was at this time that their Melina pants went viral on TikTok. Spending at Aritzia has increased 3x since the beginning of 2019.
Note: The Index approach uses the spend of base month (January 2019) as the benchmark to showcase the changes of spend from each following month in comparison to the base month.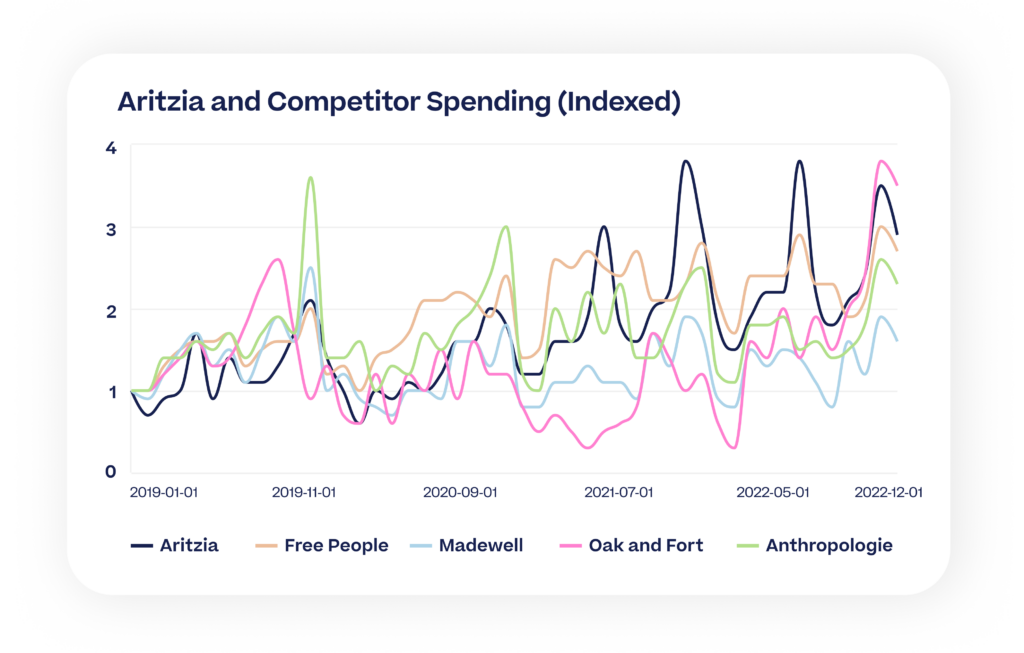 Aritzia will continue to collaborate with celebrities and influencers alike as part of their brand awareness strategies to appeal to different audiences and reach more people. Recent collaborations include Kendall Jenner and Emma Chamberlain and other celebrities spotted with the brand include Meghan Markle (Yahoo Finance, 2019). Both paid and organic influencers have played a role in its accelerated market share growth in recent years.
Reason #3:
Aritzia's customer base is comfortable with higher prices in exchange for quality and exclusive merchandise
When transaction-verified Aritzia customers were asked what were the top reasons they choose to shop with the brand, they said: for the high-quality clothing (59.9%), timeless pieces (45.3%) and positive shopping experience (28.1%). Simply put, Aritzia purchasers do not shy away from the prices, but instead, validate them by seeing these as investments in quality and reliable clothing that promise longevity.
Aritzia has a significantly greater basket size compared to competitors: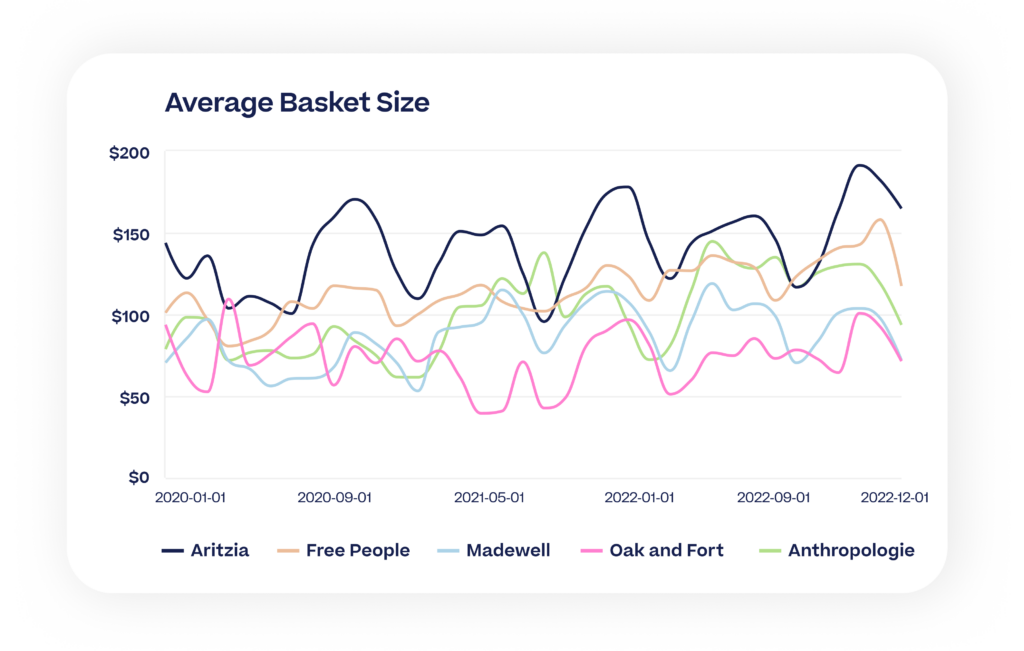 Having several private label brands offering unique pieces like casual wear, comfortable athletics and formal wear, Aritzia has positioned itself to be the one-stop shop for everyday fashion that is both trendy and contributes to their capsule wardrobe set.
Consumers are trying to save money, yet the data shows persistently increasing demand for Aritzia.
Their growth in the US has only begun. Amongst millennials, they have a considerable opportunity to increase their brand awareness, which sits at only 35% today. They have ambitious plans to increase their investments in social media and their premium store footprint. When we couple this with their powerful brand loyalty and consumers willingness to pay higher prices for Aritzia; We are left with compelling reasons for future growth.

Ready for more?
Our card-linked marketing platform, allows you to access up-to-date custom sector reports with a daily cadence, and to view quantitative and qualitative trends that fuel your work, contact sales@joindrop.com.