In October 2022, one of America's most-loved department store's evolved its affiliate offer structure on Drop into a card-linked offer (CLO).
Campaign Goal
The goals of the department store's CLO campaign with Drop were to drive incremental sales, acquire new customers, and improve retention and engagement by increasing purchase frequency.
Why Drop?
Scale. Drop has 5 Million members and counting.

Targeting Capabilities. Drop leverages first-party customer spend data to serve members personalized offers tailored to help our partners and match the audience profiles of our members.

Member Engagement. Card-linked offers are becoming increasingly popular with Drop members. CLO engagement has grown 70% in 2022, while affiliate offer use declined 40% in the same time period.
The Results
Since switching from an affiliate offer to a CLO, Drop has driven the following performance for the department store:
Plus, the card-linked offer drove a 95% lift in revenue YoY in Q4 2022 vs. Q4 2021.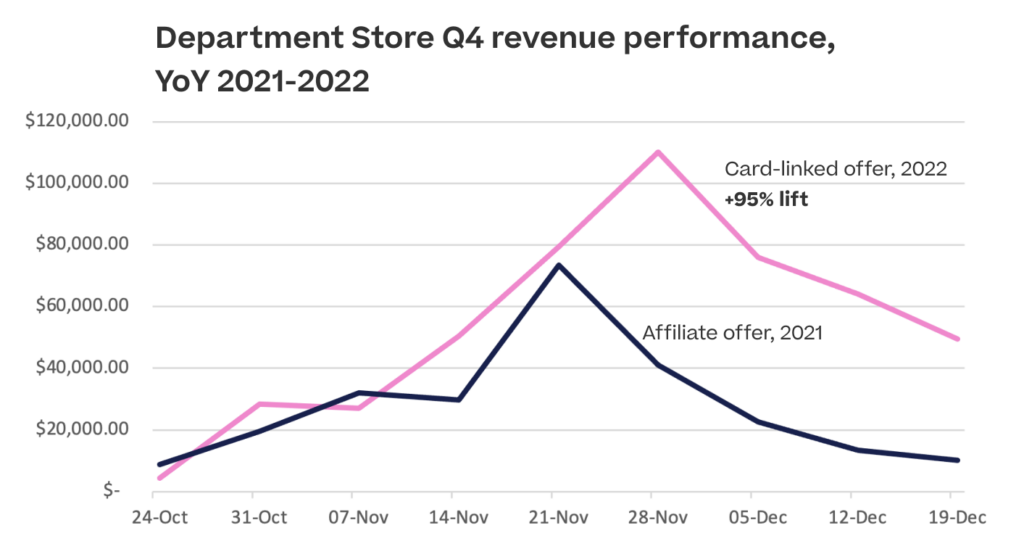 Get in touch with our team at sales@joindrop.com to learn more about how Drop can help you drive growth for your business with card-linked offers.