Leveraging data from Drop's 2023 Q1 Spending Report and a recent card-linked member survey, we have been able to uncover some interesting consumer insights into where diners are purchasing their food and the importance of price. Overall 2023 consumer spending is down and fast to moderate-speed restaurants look to be the preferred choice, but price increases or the appropriate discount could be enough to sway consumer behavior.
Total spend in Grocery stores and Restaurants decreased compared to last year, but QSR restaurants look to be the prevailing popular choice.
Total spend at Grocery stores and Restaurants decreased 7% and 3% respectively compared to last year. The spend decrease was primarily due to fewer transactions for both, but the basket size at Restaurants increased slightly (+1%) whereas Grocery decreased slightly (-2%). The marginal price increases at most restaurants are likely creating a weaker drop-off in total spend. Top restaurants among Drop members in early 2023 are fast to moderate-speed restaurants rather than sit-down venues. As we approach a potential recession, QSR restaurants will likely become a popular choice again as we saw with the Great Recession.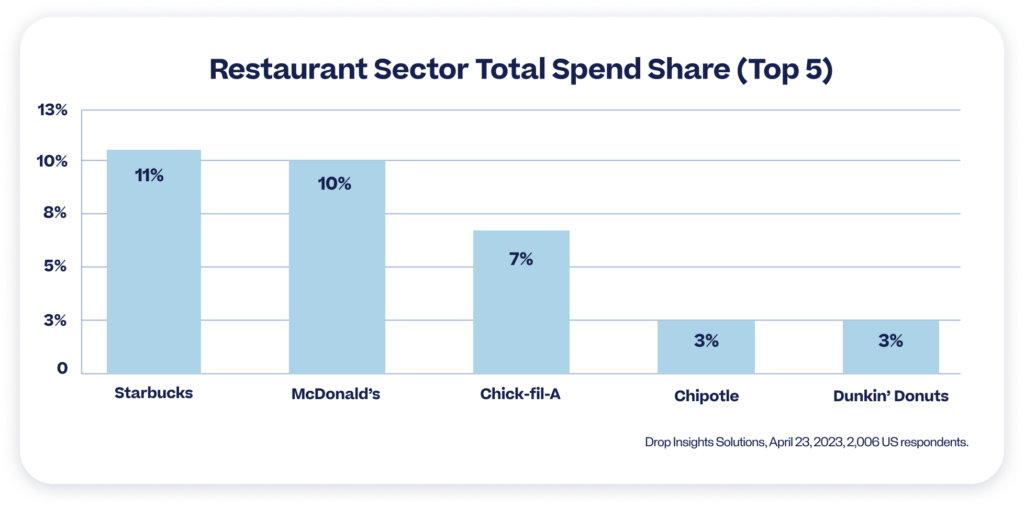 Comparing all industries, Food Delivery is the most sensitive to price increases and Grocery is the least.
For Food Delivery 40% of survey respondents would be willing to pay a <5% (lowest answer option) price increase before being deterred from purchasing, whereas for the majority of other industries, consumers are willing to pay a 5-9% increase. Grocery is the industry where respondents are least sensitive to price increases, 62% are willing to pay a 10%+ increase which is significantly higher than any other industry. Groceries are a product that consumers cannot go without and therefore are willing to pay significant price increases if required. Food Delivery is not a necessity and is already at a fairly expensive price point, so marginal increases are enough to sway consumers into changing their shopping habits.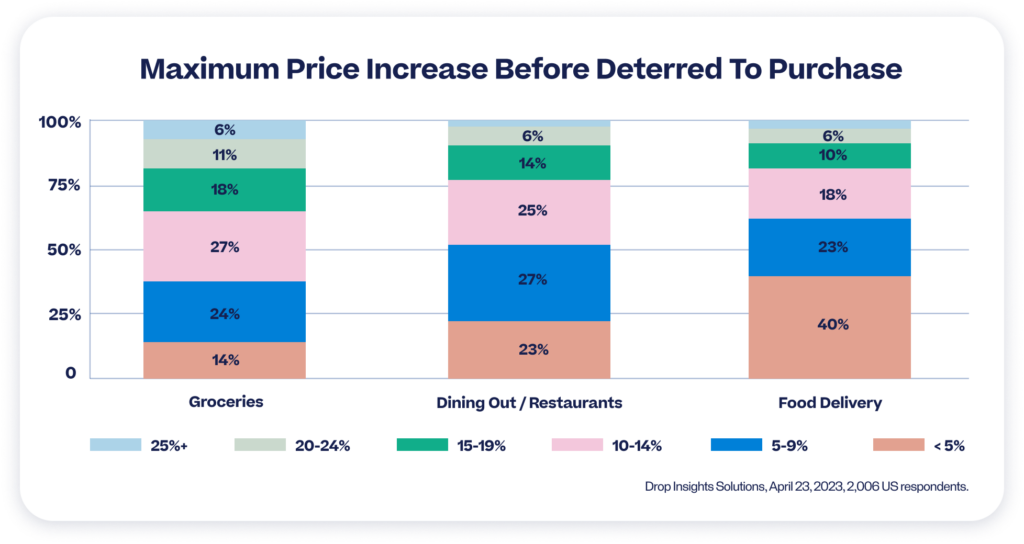 With spending habits decreasing in 2023, low-price discounts are enough to entice consumers to purchase from a brand.
For every industry except Technology, most respondents (on average 36%) would be enticed by a 10-19% price decrease (lowest answer option). The lower discounts were more prominent for Grocery, Toiletry, Restaurant, and Personal Care brands (an average 40% of respondents). For Food Delivery, Entertainment, Travel, Clothing, and Technology, a 10-19% discount was still the most popular (an average 32% of respondents) but a higher share of respondents would also require a greater discount at 30%+ (average 37% of respondents).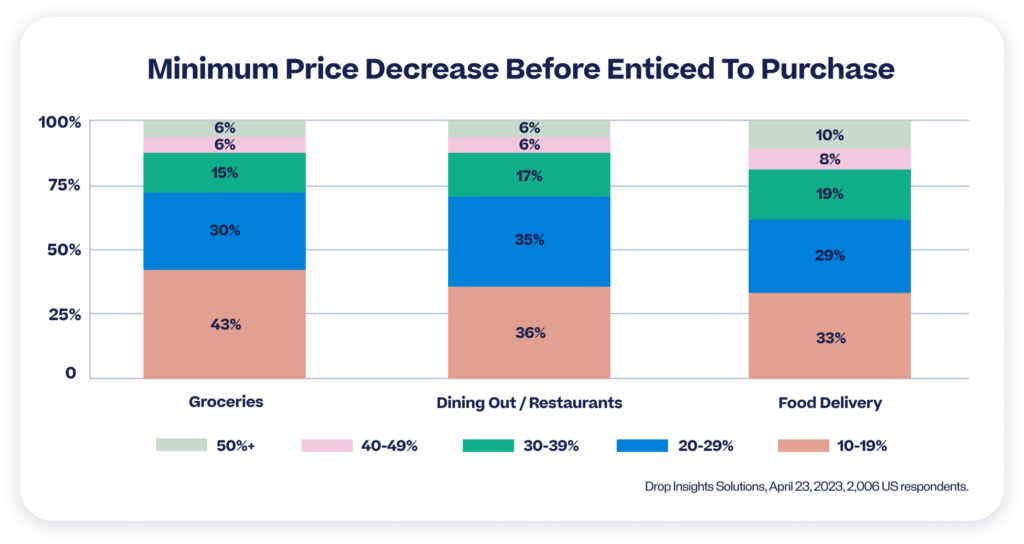 Companies in the Food Delivery industry look to have a challenge on their hands as consumers can only endure low price increases and require the highest discounts. For Grocery, on the other hand, consumers are willing to endure higher price increases and require low enticing discounts. This creates a perfect opportunity to leverage customer loyalty programs, consumers preferring to eat at home, and couponing which are popular approaches to combat the rising living costs.
In an industry where price sensitivity varies across consumer behaviors, our card-linked marketing solutions enable you to entice customers effectively. With Drop's Card Linked Offers, you will be better equipped to combat the challenges faced by the Food Delivery industry while capitalizing on the enduring demand for Grocery products. 
Ready to seize the opportunity and maximize your business's potential in the food service industry? Discover how Drop's Card Linked Offers can help you navigate the dynamics of price elasticity and consumer preferences.
Ready to get started?
Tell us a little bit about how we can help.